The mobile marketing landscape is a bit different from its traditional desktop counterpart. These 9 tips will help you get started with your SEO strategy for the platform.
If you are new to mobile SEO, there are 9 things that you should know. These include what mobile search results look like, how to optimize your site for mobile devices, and more.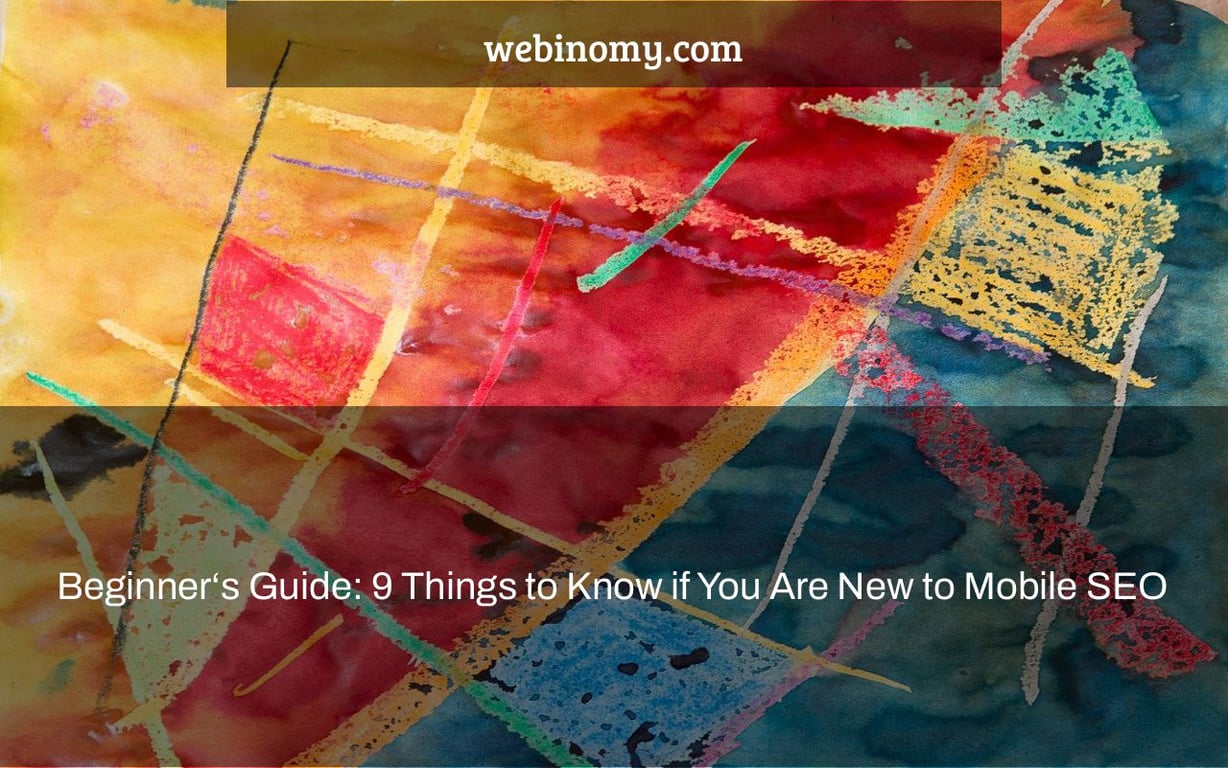 One of the key building elements of the digital marketing specialty has proved to be search engine optimization (SEO). To increase their online presence and enhance search engine results, almost every online company employs SEO tactics.
When you consider that mobile searches account for over half of all online traffic globally, your focus inevitably goes to the critical subject of mobile optimization.
For the last several years, Google has been emphasizing the importance of mobile-first indexing. In 2018, it launched the mobile-first index, but more recently, it announced mobile-first indexing throughout the whole web.
"According to our study, the majority of sites displayed in search results are suitable for mobile-first indexing, and 70% of those featured in our search results have already changed over," Google writes. To make things easier, we'll start indexing all websites using mobile-first indexing in September 2020."
So, what does this imply for webmasters and SEOs all across the world?
Websites that are completely optimized for mobile searches are favored, and if you haven't done it before, now is the time.
We'll go over the fundamentals and significance of mobile SEO, as well as mobile SEO best practices, how to perform mobile SEO for your website and make it ready for Google's mobile-first index, and much more in this post.
The practice of optimizing the experience of visitors who access your website through mobile devices such as smartphones and tablets is known as mobile search engine optimization (SEO). Mobile SEO entails tweaking and making your website mobile-friendly in order to improve its exposure and performance in search engine result pages (SERPs).
I'm sure you've heard of Walmart.ca's mobile eCommerce site optimization, which resulted in a 98 percent increase in mobile sales.
What was the secret to their outstanding performance? Optimization for mobile devices.
Note: Google has a number of user agents, or crawlers, that monitor and find new information and websites automatically. Googlebot is the most popular crawler, with numerous versions for desktops and smartphones.
The complete list of Google's user agents may be seen here.
Before going into the fundamentals of mobile SEO, it's important to understand how Google views searches conducted on mobile and desktop devices.
Previously, Google's index utilized a combination of the desktop and mobile versions of any web page's content to present results for a searcher's query, with the desktop version serving as the main source.
Using a mobile device to search Results for mobile devices are shown. Using a desktop or laptop to search The desktop results are shown.
The scenario has now changed. Only the material from your website's mobile version is utilized, which means:
Using a mobile device to search Results for mobile devices are shown. Using a desktop or laptop to search Results for mobile devices are shown.
This is Google's Mobile-First Index, which places a strong focus on your website's mobile version.
What Google has to say about certain key components of mobile searches and mobile-first indexing is as follows:
This was Google's assessment of mobile search in 2018, and it has continued to rise since then. So, without further ado, let's take a look at the fundamentals of mobile SEO.
While you probably already know how crucial mobile is for online searches, I'll summarize it in one statement.
Mobile helps you to reach your clients at the right time, in the right location, with the appropriate experience.
The importance of mobile optimization may be summarized as follows:
This was undoubtedly on the cards, given the ease of use and mobility of mobile phones and smartphones. People are increasingly utilizing their mobile devices to do searches, indicating that your content should be mobile-friendly.
According to the most recent 2020 figures, mobile devices are used by 50.34 percent of all searches globally, while desktop computers are used by 46.67 percent. Tablets are used by the remaining 2.99 percent of individuals.
Source
We all know that this number will continue to rise in the coming years. As a result, you should execute mobile SEO to help your audience locate your content more easily.
The mobile experience you provide your visitors might be the most important determinant of your brand's image and future partnerships.
Source
It's difficult to overlook the value of a pleasant mobile user experience, which encourages people to trust your brand more, and mobile SEO may help you do just that.
Mobile searches have exploded, and individuals are more comfortable buying things on their phones. As a result, eCommerce sales on mobile have skyrocketed.
Source
People are utilizing their phones for more than just purchases. They are also using them for pre-sale questions. Users will find it simpler to contact you and ultimately become your customers if your content, goods, and entire shop are optimized for mobile.
On mobile devices, users throughout the globe do a lot of "nearby" searches, for which Google offers a lot of localized results as compared to desktops. Mobile SEO aids in local search engine optimization and increases traffic to your website.
Voice search is the "now and now" as well as the "future" of search. Voice search, like mobile search, is on the increase, and companies who optimize for voice search have a distinct advantage over those that don't.
The greatest thing is that many organizations are completely ignorant of this and have yet to begin or prepare for voice search optimization.
Given the strong rivalry in the business, you should use any opportunity to obtain a competitive edge over your competitors.
Before we get into the depths of mobile SEO and best practices, we must first assess our existing position in terms of mobile optimization and then take appropriate action.
You may use a number of techniques to determine whether or not your website is mobile-friendly. Let's have a look at the most significant and suggested ones:
This is a really useful tool that may help you get started on your mobile SEO journey. Google will tell you if the provided input is mobile-friendly or not if you paste in your website's URL or a particular code snippet.
My website's test result is as follows:
The findings reveal that the website is mobile-friendly, although there are some difficulties with page loading. You can see the specifics of these difficulties to have a better understanding of them.
It indicates that 11 resources on my website could not be loaded, and if we click on it, it will list all 11 resources for us to repair one by one.
We would be missing out on some crucial information if we didn't have this technology. It's all because of Google!
This is another free Google tool that you may use via your Google Search Console account.
Simply log in to your GSC account and choose "Mobile Usability" from the left-hand column.
Here's an example of a tool's test result:
The amount of legitimate web pages on my website confirms that there are no concerns (427).
Any issues on your website will be shown under "Details." The kind of issue, as well as the number of pages impacted, will be shown.
This usability test is highly recommended for determining whether or not your website is mobile-friendly.
SEMrush is another useful tool for determining whether or not your website is mobile-friendly. It's a comprehensive tool that includes a number of effective digital marketing solutions, including the well-known Site Audit tool.
Now go to your project's "Settings" icon and pick "User Agent." This user agent or bot would be set to desktop by default, as illustrated below.
This information is pretty useful and abundant to begin with, and it will help you comprehend the amount of labor required to correct any problems.
All of these are some of my favorite mobile optimization tools, and I hope you find them helpful as well.
Google enables us to construct a mobile-friendly website in three methods to handle screen views of various sizes and types:
URLs that are distinct
Adaptive Serving
Responsive Website Design
We'll go through each of these methods in detail later, but for now, here's a comparison to give you a sense of the main differences:
Source
Let's take a look at each of these options.
This setup works on the idea of recognizing the user's device first and then delivering the device's optimized URL.
Simply said, your website has a mobile version in addition to the desktop one, which is referred to as the mobile or "m" configuration. The moniker "separate URLs" comes from the fact that mobile and desktop are delivered distinct code on different URLs.
If you're thinking that handling these URLs for mobile and desktop will be difficult, you're correct. To handle distinct URLs, you'll need to utilize the annotations listed below:
To point to the matching mobile URL, use the rel="alternate" element on your desktop page.
To point to the matching desktop URL, use the rel="canonical" element on your mobile page.
Google itself does not advocate this website setup due to the time-consuming and complex effort of establishing distinct URLs for each page.
The URL does not change for various devices under the dynamic serving setup, but distinct versions of HTML/CSS are provided for mobile and desktop.
The server recognizes the user's device and instructs the user agent to crawl and show the page. There are several problems with this. Let's take a closer look at this.
Google's desktop user agent, for example, will not be able to crawl mobile material. When someone visits your website on a mobile device, the server should request Google's mobile user agent to crawl the page and display the content. This detection is often inaccurate and may result in mistakes. As a result, incorrect copies of the web page may be shown, resulting in a poor user experience.
On a personal note, I don't think dynamically providing material is a good idea.
Finally, there's this highly suggested method for making a mobile-friendly website. In a responsive web design configuration, regardless of the user's device, the same HTML code is provided on the same URL.
As the name implies, the code and content adapts to multiple screen sizes and reacts to each unique user.
The following are the primary reasons why Google advises using a responsive web design setup:
The crawling of your website becomes much more efficient, which enhances the site's overall SEO.
The user experience on your websites is improved since there are less possibilities of faults and inaccuracies in terms of device recognition, URL redirection, and displaying information.
Using the aforementioned considerations in mind, the majority of websites nowadays are built up with a responsive design configuration. So you know what to do if you're still in the minority.
Ensure that Google has access to and can crawl anything.
Interstitial Popups Should Be Avoided
Present the same content on both a desktop and a mobile device.
Improve the speed of your mobile site
Provide a Consistent Mobile User Experience
Perform Mobile SEO Technically
Take a look at AMP (Accelerated Mobile Pages) and PWAs (Progressive Web Apps) (PWAs)
Search Engine Optimization (SEO) for Local Searches
Here are some ideas for improving local SEO for mobile:
Get ready to optimize your voice search.
When designing your website, selecting the responsive web design configuration does not immediately make it mobile-friendly. To get the greatest results, there are still a lot of modifications to be made.
Having said that, if you're utilizing one of the three methods for creating a mobile website, here's how to make it mobile-friendly:
Allowing Googlebot to access and crawl JavaScript, CSS, and pictures is the initial step toward mobile optimization.
To begin, go to Google Search Console and use the "URL Inspection" function. This is the new "Fetch as Google" feature, which was previously available in the old Search Console. Any of your website URLs may be entered there, and the program will tell you how Googlebot displays your content.
From my website, here's an example of a test:
I recommend doing a live test for your website, which will provide you with further information about crawling difficulties.
If the program finds any problems with your page, you've got your job cut out for you. Expand each option to see what's wrong and how to repair it.
The next step is to see whether you've blocked the Googlebot from indexing any of your website's URLs. All information about resources that have been blocked from being viewed by Google is included in the robots.txt file.
Check your robots.txt file at yourwebsite.com/robots.txt to make sure no vital URLs have been blacklisted by the "disallow" directive.
If you're using different URLs for mobile and desktop, be sure to utilize the identical meta robots tags on both pages.
Because user experience always takes precedence over other considerations when assessing a web page's ranking and performance, content accessibility on mobile devices is emphasized, and rightfully so.
In 2016, Google stated its dissatisfaction with the usage of obstructive popups on websites, which significantly harmed the page experience. There has been an update to it, according to which,
A Google mobile popup penalty, which normally results in a reduction in search ranks, is clearly visible.
Is this to say that we should never use popups again? No.
Google provided instances of popups that might create accessibility concerns.
Then there are popups that are nonetheless appropriate and do not obstruct the user's experience.
On mobile devices, I propose employing a small number of popups that don't encourage people to click on them or fully hiding the background text.
Overall, your popups should be responsive to mobile devices.
This goes without saying, but if your information appears differently on a desktop than it does on a mobile device, you have an issue.
The mobile-first index and mobile optimization are centered on allowing website users to do almost every activity in the same way regardless of the device they are using. This makes it critical for website owners to display the exact same information across all devices.
On both desktop and mobile, the text, headlines, and pictures should relate to one another. The page names and meta descriptions should be the same if distinct URLs are utilized.
The average mobile web page takes 15.3 seconds to load, according to Google's survey of 11 million mobile web sites.
After that, there's this:
There is a lot of work to be done on mobile site performance, as obvious as daylight, and the interesting aspect is that page load time is also a ranking issue for Google.
There are many tools available to measure the performance of your website, but Google's PageSpeed Insights should be your first pick.
The following is the tool's result for my website's mobile homepage:
The website loads quickly, but there's a lot more to the product than that. It also highlights the difficulties and prospects for speed improvement.
You'll obtain an in-depth analysis of your website's performance.
Some of you may be tempted to utilize other tools to assess website performance, and although that is certainly possible, you should prioritize this handy Google tool.
Your server response time must be as short as possible, and this is mostly determined by your web host. To prevent poor server response times and sluggish performance, get a reliable website hosting service.
All website extensions you use should be well tested and should not cause your website to slow down in any way. To better understand and correct the flaws, you can test and compare the speeds of your website with and without the plugins.
For a website to load quickly, image optimization is essential. Image optimization recommended practices include compressing pictures to ideal sizes, lazy-loading images, adopting Google's WebP image format, and supplying responsive images with the proper proportions.
If you want to see a video, don't use Flash. HTML5 may be used to include video and animated content. Replace animated GIFs with videos instead of animated GIFs.
Despite the fact that website redirects are unavoidable, be sure to utilize them appropriately. It's possible that having a lot of redirected URLs on your website can slow it down.
Allow browsers to store all page resources such as text, pictures, CSS, scripts, and other resources for first-time visitors on a website via HTTP caching. The browser may get all information from the cached cache without having to load them again the next time the site is loaded. This increases the overall website performance by speeding up the loading time for returning users.
I can't emphasize this enough: the coding on your website should be impeccable. To ensure that your website runs quickly, be sure to compress and optimize all HTML, CSS, and JavaScript.
Today's business is more about the experience than the goods. People often recall positive interactions with a business, website, or service. In a similar vein, Google released its most recent ranking algorithm.
What's more, guess what? What is the basis of the algorithm? Yes, you are accurate. Experience with the page.
And mobile is no exception. Many people may access your site through mobile, so it's crucial to understand their requirements and provide them with the greatest possible experience.
This also helps me to emphasize my point about your website's responsive design and mobile-friendliness. Don't be fooled into thinking that just because your site has a responsive design means it's mobile-friendly.
It isn't the case.
Here's how you can improve your website's mobile user experience:
When it comes to optimizing the mobile user experience, the first thing that comes to mind is the readability of our information on the device. If a visitor has trouble reading or comprehending your material, they will abandon your site without hesitation.
Short paragraphs of 2-3 lines should be written in a decent font size (15px or 16px).

To improve visibility, use a lot of negative space between text and other page components.

High contrast writing is simpler to read and absorb, even when the lighting and environment change.
On a mobile device, here's an example of a well-readable webpage:
When people visit your site on a desktop, mobile device, or tablet, they should not notice any differences. Even if they are using a mobile device, they should be able to easily navigate around the various components of the website.
There should be enough room on the screen for fingers to tap, and the clickable area should not be too small. To prevent any mistake, two clickable items must be separated by considerable space.
All buttons on your site menus must be organized in a logical manner that corresponds to the size of the device's screen.
Nowness does a great job with this.
The display of online forms and all fields included is the next step in improving the mobile user experience.
Generally, try to keep the amount of form fields to a minimum so that customers don't find it laborious to fill them out on any device. Furthermore, customers should find it simple to fill out your forms and should not have to deal with any of this.
To give the greatest experience, distinguish all optional fields, prevent dropdown menus, allow placeholder text, and supply matching keyboards for the concerned field.
Here are some examples of these ideas in action:
For further information, see this excellent resource on mobile form best practices.
Although the fundamentals of technical SEO for a website are almost same for mobile and desktop, you must still pay attention.
The stages to perfecting the technical parts of mobile SEO for your website are listed below:
For mobile searches, make sure your meta titles and meta description tags are optimized. When compared to desktop searches, mobile searches provide less information. Create tags and descriptions that contain all critical keywords and information upfront on both mobile and desktop, keeping this in mind.
If you're utilizing responsive design, use the "ViewPort Content" element. Google has provided an example code that looks like this.

!DOCTYPE html> html lang="en"> html lang="en"> html lang="en"> html lang="en"> html lang="en"> html lang="en"> html lang … meta name="viewport" content="width=device-width, initial-scale=1″>… meta name="viewport" content="width=device-width, initial-scale=1″>… /head>…

This tag automatically adjusts the page size to the user's device.

To let Google understand the sort of information on your site and get rich results, use structured data or schema markup.
Use breadcrumbs as a secondary navigation along with your main navigation if you have an online shop or a huge website.
Use internal linking to boost the visibility and keyword rankings of your website pages and content.
For your website, use AMP (Accelerated Mobile Pages).
Finally, remember to keep up with fundamental technical SEO strategies like creating a sitemap, encrypting your website with HTTPS, and utilizing canonical URLs for distinct URL setup.
Google's Accelerated Mobile Pages (AMP) project is an HTML framework that enables web pages to load rapidly on mobile devices. By removing on-page components and offering a fast-loading page, AMP decreases the load on the website.
A "lightning" symbol, as shown in the screenshot below, denotes AMP sites.
Because Google is leading the AMP effort, many website owners and SEOs have already implemented the framework.
Is it, however, always advisable to use AMP? No, I don't believe so.
The following are some AMP restrictions to consider:
When utilizing AMP, CSS and other design features are restricted. This implies that instead of the entire design, a generic version of your site will be shown.

You don't have complete control over the adverts and popups that appear on your page.
Google is the one who maintains AMP pages. https://www.google.com/amp/s/www.theweek.co.uk/94404/dan-brown-s-books-ranked-best-to-worst% 3famp is an example AMP page. This implies that any backlinks to your content, as well as any link juice associated with it, are moved to Google's domain, not yours.

According to Google, AMP analytics presently have less features than conventional analytics.
As a result, based on the type of your company and the quantity of mobile visitors you get, you should determine whether or not to adopt AMP.
PWAs
The distinction between a website and an application is blurring, and progressive web applications (PWAs) act as a bridge between the two. A progressive web app is a hybrid of a website and an application, for those who are unfamiliar. It functions as both a website and an app. PWAs are compatible with all browsers and devices.
PWAs have the following advantages:
PWAMP, a mix of PWAs and AMP, is also gaining traction and may easily become the ultimate option for improving mobile website performance and user experience.
The cost-effectiveness of PWAs is one of its drawbacks. You'll need to dig out your company metrics and resources once again to determine if a progressive web app is the best option for you.
In recent years, there has been a significant increase in "near me" searches, and Google now displays localized results for such queries. We all know that consumers use their cellphones outside of their homes, and that a lot of that use leads in local search engine inquiries.
This necessitates the development of local SEO so that your website or content appears in local searches.
Source
Write content that is optimized for local searches and includes references to your local company and neighborhood. Make a content plan tailored to your local SEO efforts.
Take control of your GMB. Fill up your Google My Business profile with all of the needed information, including your NAP (Name, Address, and Phone Number). Add photographs of your company or office to your GMB profile.
Make sure your firm is listed in local directories and strive to establish as many local connections as possible.
Request evaluations from your satisfied customers to help you create rapport and a positive image for your company.
If you use structured data, like as Schema, for your items, reviews, and NAP information, you'll have a better chance of appearing in rich results.
Make sure all of your information, including your NAP, is up to current and consistent wherever your firm is listed.
Optimizing for local searches and mobile inquiries might indicate that you're ready for voice searches in and of itself. Mobile phones are used for many voice searches, and many of these voice searches contain local questions.
Include more conversational and inquiry keywords for the greatest voice SEO results. The bulk of voice searches are in the form of questions and have a lengthier query length.
Also, try to go for rich results, as this will improve your chances of appearing as a top voice search result. Include straight answers to questions, subheadings for whole questions, and numbered lists of responses.
You may use this tutorial on voice search SEO tactics to learn about the fundamentals of voice search and how to optimize for it.
You may gain a lot if your voice optimization strategy is on target. On the one hand, you'll pique the interest of mobile searchers, but on the other, the identical answer may display as a rich result for desktop visitors.
Voice search is gaining momentum, and it can only go one way at this point: onward and upwards. As a result, it is critical to plan for such developments and enjoy the benefits in the future.
Keyword research is the foundation of every SEO plan, and it's no different when it comes to mobile SEO.
The following are the reasons for include this distinct part in the article:
In one spot, you can learn the keyword research approach for both mobile and voice search optimization.

SEMrush is a fantastic intelligence tool that you should learn how to use.
The first step is to do mobile keyword research.
You may switch between the devices for which you're optimizing content in SEMrush. You may switch to mobile and gather keywords that will assist you attract mobile searches.
Users on mobile and desktop have distinct search behaviors, and this may be seen in the terms that are presented. On the other hand, there will be terms for which the results will be the same regardless of device type.
We recognize that the inquiries for voice search are more conversational and lengthier in length. As a result, using question keywords is strongly suggested.
As a result, by using SEMrush to optimize two critical aspects of online search, you will be able to stay one step ahead of the competition and take the lead.
I hope my material has piqued your attention so far, and I'd want to add to that by shedding additional light on mobile SEO best practices.
With the help of Google Analytics, determine what proportion of your website traffic comes from mobile devices.
Check the clicks, impressions, and click-through rate of your mobile traffic with Google Search Console (CTR).
Use a variety of tools to see whether your present website is mobile-friendly.
Use Google Search Console's new URL Inspection tool to check how your website appears on mobile.
Confirm any crawling issues on your site and fix as many as you can.
Make certain that Google can crawl your whole website.
Using the Page Performance Insights tool, check the speed of your website on mobile and look for ways to make it load quicker.
If feasible, configure your website using the responsive site setup. Employ relevant mobile SEO best practices if you use dynamic serving or distinct URLs.
Use popups that are mobile-friendly.
Pay attention to your mobile user experience and make sure that all of your material is mobile-friendly.
Make a special effort to investigate mobile keywords and do technical SEO for mobile.
Remember to optimize your local SEO for mobile.
That is debatable.
It is entirely dependent on your company and the proportion of mobile traffic it receives.
If you own an eCommerce business, you must make sure that your website is mobile-friendly. This is owing to the large number of internet customers who shop on their phones.
If you don't get a lot of mobile traffic, on the other hand, you could be inclined to dismiss the idea. However, bear in mind that mobile search traffic will eventually catch up to you.
Source
Although many individuals do not purchase using their mobile devices, keep in mind that mobile searches play a significant influence in shaping a buyer's purchase choice later in their buyer's journey.
They may visit your website, buy your items, or use your services on their phones one day and then convert to a desktop the next.
As a result, I believe you should strongly consider investing in mobile optimization. It may not be large at first, but it is always a good idea to get started so that you may expand on it later.
If you're still reading, I'd want to thank you for your interest and willingness to learn.
For a long time, the mobile search revolution has dominated the search industry, and it is set to climax in the next years. Many of you may be familiar with the notion of mobile optimization since you have already implemented it, which is fantastic.
This mobile optimization tutorial is guaranteed to come in handy for those just getting started with the internet and will show you how to handle SEO for mobile websites.
Make sure you follow the methods and mobile SEO best practices outlined above, and don't forget to share your findings. Also, keep an eye on mobile SEO trends for 2020 and keep an eye out for new developments.
Which of the above-mentioned mobile SEO tactics has proven to be the most effective for you? Have you thought about optimizing your website for mobile? What's to stop you? Is there anything I could have done differently to improve this guide?
Watch This Video-
The "mobile-first indexing 2020" is a change that Google has recently made. It is a big step for the search engine, but it will take some time for everyone to fully understand how this affects their business.
Related Tags
mobile-first indexing
mobile index
google mobile algorithm
mobile index html
mobile-first indexing 2021